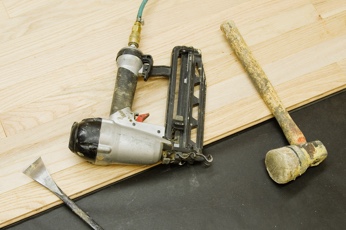 Nail-down installation
Nail installation is a method commonly used for solid hardwood floors. It follows the same method as staple-down installation, but you use a wood flooring cleat rather than a stapler.
If you're installing engineered hardwood floors, please refer to the staple-down instructions.
materials needed
Nailer or Stapler:
For installation over 3/4″ wood type subfloors installed over joist or truss systems a minimum 2″ long cleat, or staple should be used.
3/4″ thick plywood over concrete, 1 1/2″ cleats or stapler should be used.
things to keep in mind
Always review the instructions included in your box thoroughly before you start installation.
Use only nailers or staplers designed for installation of 3/4″ hardwood floors.
High moisture areas or rooms larger than 20 ft. by 20 ft. may need 1/32 spacers for extra expansion as well as 3/4″ at any verticle obstruction.

i.e., walls. Mullican recommends prefinished foot for manual and air nailers/staplers.

If you plan on storing the material prior to installation, store at least 4″ or more off the ground and in a dry area.
Before you begin your project, place the cartons in the home and allow flooring to acclimate. For Oak, acclimation time is 3 to 5 days in live in conditions with normal relative humidity and temperature. Other wood species may require a longer acclimation time.
Lay flooring only after sheetrock and tile work are thoroughly dried and all woodwork and trim have been completed.
Always pull planks from different boxes as you install to provide a more consistent look across the floor.