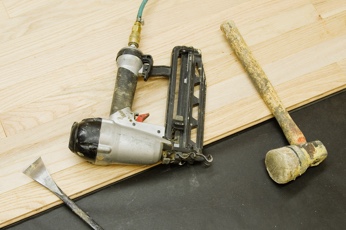 Glue | Herringbone Installation
Glue installation is a method used on prefinished, engineered hardwood floor. This approach uses wood floor adhesive to secure your flooring directly onto the subfloor—so, subfloor preparation is critical. Make sure that you leave a large enough expansion gap from the wall to allow the wood to contract and expand. Check out our glue installation guide for engineered hardwood floors.
materials needed
Wood floor adhesive: high quality urethane adhesive is recommended.
Rubber Mallet
Hand or power saw
Chalk
Trowel
Resources
things to keep in mind
Always review the instructions included in your box thoroughly before you start installation.
Lay your flooring only after sheetrock and tile work are thoroughly dried and all but the final woodwork and trim have been completed.
Clean your subfloor by removing paint, wax, oil, plaster, "sheetrock mud", and other foreign materials, as well as obvious surface irregularities.